Wanna make your own screen shots and having trouble?
Some help here.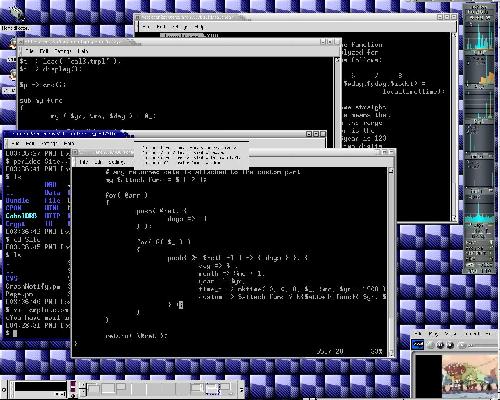 Click on the image for a larger version
---
Old Desktop (July 12 2001):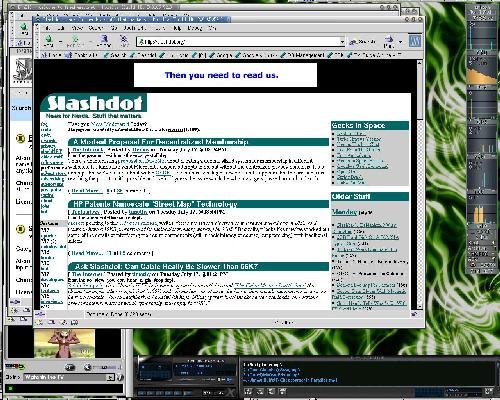 Click on the image for a larger version
I'm running sawfish/gnome now and I think it's working well. I really like the little edge panels, they are oh-so-handy. And sawfish sure makes configuring the tweakables so much easier than fvwm2 did. Sure, I'll miss my fvwm2rc file and all the hours that went in to it... But I think I'll live.
This is a pretty bland shot, yeah, I use mozilla now, as of about 0.8. You'll also notice the RealPlayer in the corner, I use it to stream TV to my desktop at work. Maybe someday I'll do a little howto on it, but basically I've got a Win TV card at home and cable, so I can log in with ssh, set the channel, and the stream comes to me. Pretty nice, helps pass the time. :)
---
Old Desktop (May 9 2000):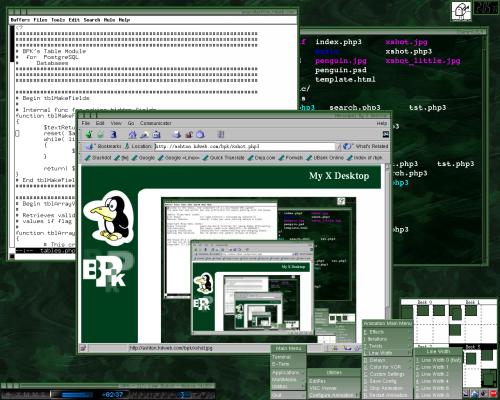 Click on the image for a larger version
I run FVWM2, it's got enough chrome for me and is speedy even on a pentium 133. Gnome with E runs dog slow for me, even on a PII 350, and yes, I know an accelerated graphics card would make a world of difference, but I'm a programmer. I don't care about hardware, gimme the code!
Also notice the Emacs for X. Yes, that's for X, not X Emacs, a different beast entirely, however I have tried it out and it's OK. I still like good old emacs though. And of course, for older machines, nothing can beat vi.
Also, that module is deprecated since it was a php mod. All my older DB stuff was using that module, it served well. In fact, the catalog database and report archives mention in the about me page were written using it. However, things have moved on and now my perl modules do everything the php stuff did and much much MUCH more. Check them out.